Hang-It by Andscot; is a new and innovative system designed for hanging flat decorator mirrors. Hang-It makes this once time consuming task much easier. Simply peel and stick!
Hang-It™ has been designed to be used with all types of mirrors. It's high strength adhesive backing adheres to all mirror paint backings that meet industry standards. Hang-It™ saves time and labor when installing decorator mirrors. Simply peel off the protective paper on the back of the metal hanger, align the saw tooth slot of the metal hanger with centering lines you have established on the mirror, and press in place. Hang your new mirror on the wall making sure the saw tooth slot is positioned where you want the mirror
to be hung.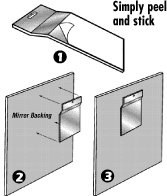 [themify_box style="comment rounded gray" ]Andscot Company, Inc. has been selling quality metal products to the glass industry since 1961![/themify_box]

Warranty
This product is warranted to the original purchaser to meet published specifications, if any, in the absence of published specifications, to be MERCHANTABLE QUALITY Such warranty may not be assigned or otherwise transferred by purchaser. NO OTHER WARRANTY, EXPRESSED OR IMPLIED, OF MERCHANTABILITY OR FITNESS FOR A PARTICULAR PURPOSE OR ANY OTHER THING MADE Purchaser's exclusive remedy for breach of this warranty shall be refund of the price paid for the products by the purchaser. Except as stated above, Andscot Company, Inc. shall not be liable for any defect in, or breach of obligation relating to the defects inthis product, regardless of the theory that may be asserted, including, without limitation, negligence, contract, absolute liability in tort or misrepresentation. If the pur chaser does not accept goods on these terms, they are to be returned at once, unopened.
Installation Instructions
Clean any contaminates from the back of the mirror using a mixture of alcohol and water or denatured alcohol.
Locate the center of the mirror and draw a vertical line from the top to the bottom.
Measure down 3″ to 6″ from the top of the mirror and make a mark on the centering line. This marks the location for the top of the hanger.
Locate the center of the hanger. Mark with a line. (The saw tooth slot is centered at the top of the hanger.
Peel the adhesive protective paper from the back of the hanger. Align the centering marks on the mirror and hanger. Press in place making sure the Hang-It bracket is making full contact with the back of the mirror. Make mark 3″ to 6″ from top of mirror
Precautions
Make sure mirror and Hang-It are applied at or above 60° room temperature when assembled.
After installing Hang-It on the mirror, wait at least 2 hours before hanging the mirror. The adhesive gains strength in time and fully cures in 7 days.
Hang-It™ will support decorator mirrors weighing up to 40 lbs.
Always use gloves when handling mirrors to protect yourself and avoid damaging the mirror.